For a decade now, Cefalo has provided software developers to renowned Norwegian players such as Dagens Næringsliv, NTB and StormGeo in addition to a whole range of less profiled, but highly skilled companies. Many of them are surprised that offshore development can work as well as it does.
It is no secret that quite a few are a little skeptical of outsourcing, and many have their own experiences with varying degrees of success.
Prior to starting Cefalo we knew about these challenges too, before we discovered how outsourcing can actually work at its best.
That's exactly why we wanted to do it differently.
Cefalo is very similar to a recruitment agency
When starting Cefalo, there was one issue we wanted to address: Outsourcing was seen as putting an entire development project to a supplier and getting a finished product back, without any particular involvement in the work along the way.
Not surprising then that the result often was something completely different from what the customer had envisioned?
The entire Cefalo model is built on the fact that it is the developers' time that you pay for, not the finished product. This means that you have a permanent team of full-time developers, not a rotating team through a stable of consultants who go from customer to customer depending on availability and supplier priorities. Our developers should feel like your own employees!
Our clients have often tried to hire developers in Norway first, without success. Local developers are simply hard to find, they are expensive and they are not readily available. That is why we work as much as a recruitment agency as an outsourcing company. You describe what kind of developers you are looking for, and we'll be searching until we find them. The biggest difference is that our developers work at Cefalo in Dhaka, Bangladesh, instead of your offices in Norway.
Once the developers are in place, you have a flexible team that in reality will be perceived as your own employees. But with value added and more flexibility – as your needs will change over time. A Cefalo team can be scaled in line with your needs, both through more developers and variety in the competence needed.
Skilled developers – with low turnover
For our business model to work well, we rely heavily on having the best software developers. Cefalo probably has a higher percentage of senior developers than most who offer offshore development. We also have a remarkably low turnover – something we take great pride in.
Excellent developers stay at Cefalo. Why?
Of course, they are paid well, but that's just a small part of the story. Excellent developers make good money worldwide, including Bangladesh. Skilled people need other things to stay:
Exciting tasks
Room to fail and learn
Work life balance
Opportunities to grow professionally
Responsibility for how tasks are to be solved

All in all, pretty obvious characteristics of a good workplace. And although many employers in Bangladesh realize the same thing, Cefalo's base in Norwegian work culture has probably given us a certain advantage.
Upside-down model puts the developers in focus
When we draw the map of Cefalo's structure, we always put our developers at the top. Then the middle managers in Dhaka, and at the bottom the head office in Norway. It is sort of an inverted model of what is common.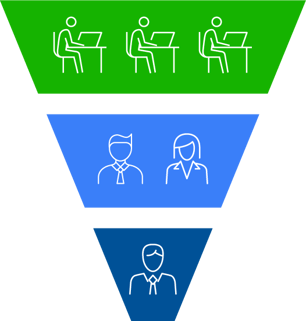 This does not mean that all the power lies with the developers. What it means is that managers and middle managers are there to smooth the way for the developers. Our developers are the gold in the company.
This is a model we believe in, which has been essential since we started the company. It turns out that there is actually a name for this way of thinking, namely servant leadership (as in that the leaders should "serve" the other employees). Management must adapt to the developers – who create the value of the company – not the other way around.
Of course, we also add customers at the very top of our inverted pyramid. The developers' job is to help our customers, so that they achieve their goals. But in all parts of the structure, there must be mutual respect, and trust that the other party knows (and will do) their job.
It is hard to row the same way if everyone is in different boats.
Customer- and employee satisfaction
The result of all this is that we can proudly boast very satisfied customers and employees.
In our employee surveys, all developers answer that Cefalo is among the top five percent best employers in the country, and we have also received several awards that confirm their stories.
When it comes to customers, we can really let the customer survey speak for itself.
Many companies operate with something called the Net Promoter Score (NPS): Customers are asked to rate how likely it is that they will recommend the company/products/services to others, on a scale from 0-10. 0-6 is considered dissatisfied, 7-8 is neutral, and only 9-10 is considered actual ambassadors. It's a pretty strict scale.
To calculate NPS, you subtract the percentage dissatisfied from the percentage of ambassadors (for a result of between -100 and 100). The average score for B2B is around 30, above this is considered very good, while 50+ is considered to be world class. Cefalo's Net Promoter Score is at 83!
In addition to this, 100 percent (!) of the customers answer that they agree or strongly agree that Cefalo delivers good value for money, and that the team's expertise meets expectations.
The big secret behind The Cefalo Model
We can summarize what has made Cefalo's customers so happy in a few points:
Excellent and happy developers
Good working culture with mutual respect and trust
Focus on Norwegian customers
Our solution does not include big secrets or radical measures that will turn our industry upside down. Just like in Norway, hiring the best people, treating them well and focusing on the customer goes a long way. It provides satisfied employees, satisfied customers, and a thriving business.




Are you curious about external development? We are happy to have a pleasant chat with you by phone, meeting or video.